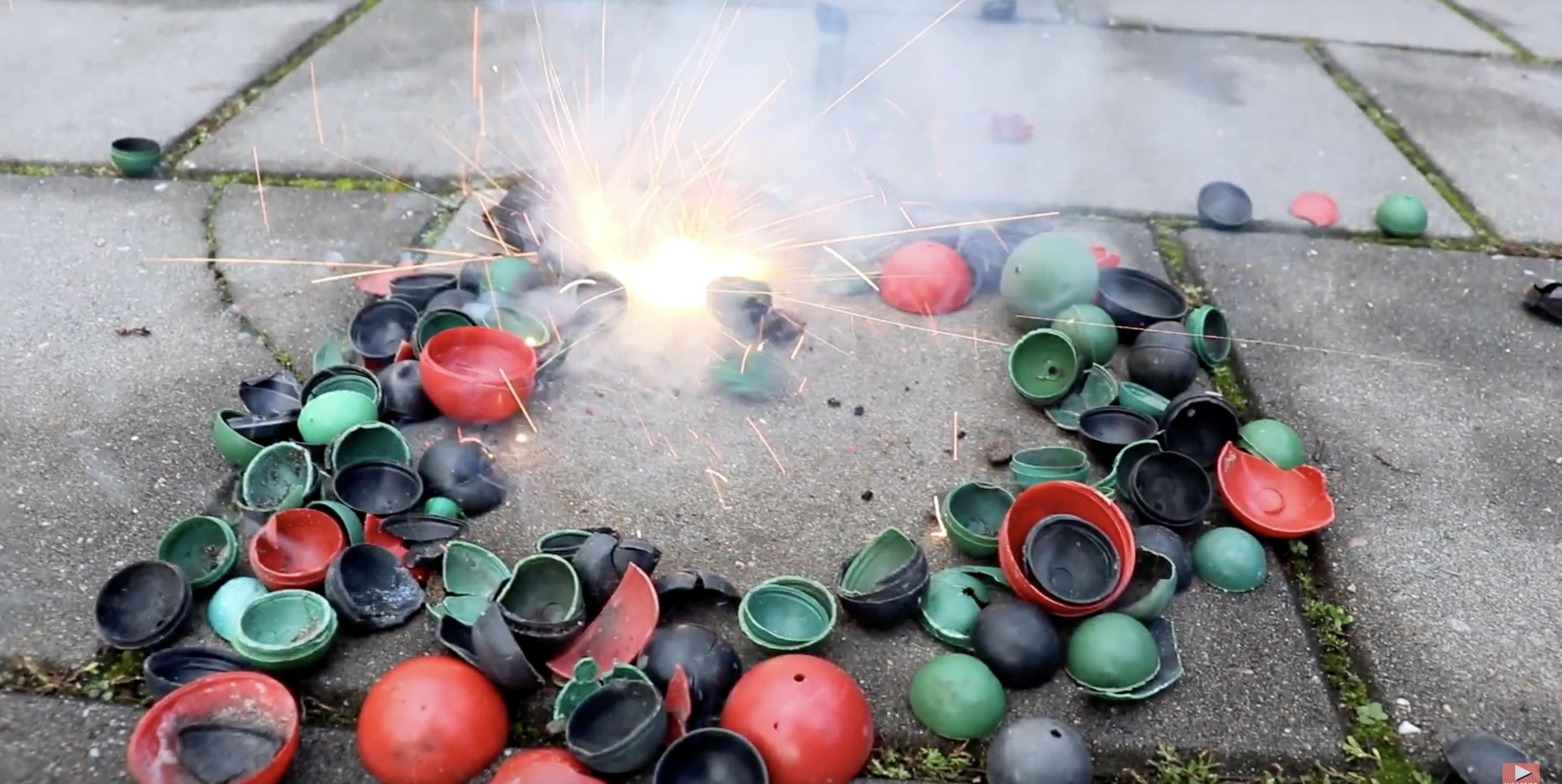 Operation Crackling ball
No more plastic in fireworks
We want to stop plastics in fireworks. Fireworks that in some cases are sold year round. Fireworks with plastic are products that are designed to end up in the environment. We have retail- and import companies sign a 'Blastic Deal' (Knalplastic Convenant) to phase out plastic from fireworks.  
It started with a VLOG in which we called out to the community to photograph the left over shards of plastic and send it to us as proof for the judge. We are now close to setting a new Dutch norm and taking that to Brussels.
Stopping 'literal throw away plastic'
Ban all plastics from fireworks.
KNETTERBALLEN / CRACKLING BALLS
Some plastics are used in products like fireworks. Plastic that is meant to be thrown away in the outdoors. Plastic that is left in shards after the explosion - hardly cleaned up afterwards. Category 1 fireworks is sold year round and found year round. An outragous example are 'crackling balls' (Knetterballen).
We started out in november with a campaign in which we wanted to have the judge rule out plastic use in crackling balls. To do this we needed evidence that it is found in the environment. A group of litterpickers lead by Dirk Zwerfinator Groot photograped 62.000 plastic shards and left over pieces after the use of crackling balls throughout the Netherlands and throughout the year.
SUE THEM
The Law Faculty (LAPP) of the Leiden University was prepairing the law suit. Our goal was to sue the stores selling these crackling balls. Namely ACTION, ALDI, GAMMA, BIG BAZAR and INTRATUIN to name the market leaders in volume.
What happend though is that these and many other companies decided to recall the crackling balls from their shelves (very costly with lost sales and retrieval costs well over several 100k in some cases). These recalls were a huge succes for the campaign but... it meant that we had no case left to take to the judges.
NEXT LEVEL
So we took the campaign to the next level: we want to have the companies and Dutch firework importers sign our 'Blastic Deal' (Knalplastic Convenant). A deal that stops the sales of Crackling Balls right away but also phases out all plastic in fireworks in the Netherlands in the next two years.
This 'Blastic Deal' combined with the 'Blastic Resolution' (Knalplastic Motie) which mrs. Kroger presented to parliament and adopted by minister Van Veldhoven will now be taken to Brussels (as she states in this letter) and used to influence European policy.
Will you support us?
How can you help fighting against plastic soup?
Support us