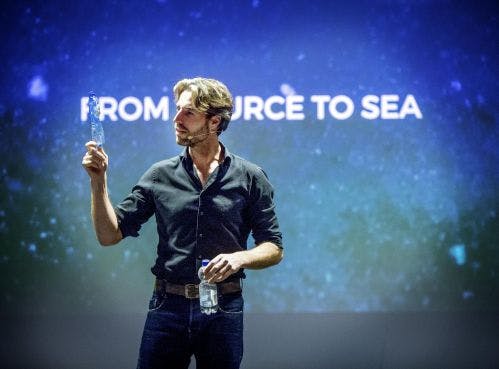 Plastic Soup Surfer (online) presentaties
Inspiratie, avontuur, video, storytelling en gerichte Calls to Action!
Email for more details
Webinar & online presentations
As Plastic Soup Surfer we not only have the knowledge and experience we also have lots of short video of our adventures, expeditions and campaigns to spicen up your online event.
Inspirational change maker
We are not 'against' plastic. Plastic has many merits. Plastic Pollution is a result of our 'single use lifestyle. We need to go 'Plastic Smart'. The visibility and tangiblity of this material gives us hope. The fact that we handle it every day can make a rapid behavioral change possible. A change that is urgently needed for a sustainable future.
Book us for your next webinar, online discussion or presentation
The Plastic Soup Surfer has adventurous stories to tell, a compelling future vision to share and practical "Calls to action". 
Storytelling 
The story of the Plastic Soup Surfer reads itself like a boy's book. From the first mediagenic expeditions on homemade surfboards from plastic litter to the clever use of petitions, resolutions and judicial instruments that opened the doors to politicians and company boardrooms; one amazing adventure.
Deposits
His claim to fame is the breakthrough on deposits (doorbraak statiegeld dossier) which put him in the spotlight of the general public and made him a power to recon with within boardrooms and parliament. Dutch national policy on deposits (statiegeld) is officially based on the 'Plastic Soup Surfer petition-resolution'.
Biologist
Merijn Tinga (1972) is a biologist who switched to a career in sculpting. In early 2014 he was gripped by the plastic pollution which he saw washing up onto his local surf-beach. This lead to the first surfboard made from washed-up plastic waste. The campaign and long distance record on this board made from 'plastic soup' marked the birth of the Plastic Soup Surfer.
Four more expeditions were to follow as well as three documentaries and a growing community which aided in several succesfull campaigns. 
Authority
Openness to the complexity and his feel for perspective has gained him the trust of a large network of politicians, producers, recyclers and NGOs alike. By organizing conferences and a new VLOG series he is uniting the community of grass roots plastic-activists in their battle and vision on the use of plastics.
By inviting the Plastic Soup Surfer to your stage you get adventure and a personal, inspirational story on how you yourself can make a difference.  Use his story, experience and knowledge to motivate change.
Energetic, easy- going, experienced stage presence. +150 presentations in the last 3 years.
Selection of held speeches
PES Conference Madrid (1300 people) EU vice president Frans Timmermans feb. 2019
Microplastics Conference Berlin (400 people) German Ministery of Science and Education may 2019
Blue Economy Conference Nairobi Kenya (600 people) Dutch Ministry of Foreign Affairs
Opening Academic year Leiden (1500 people) University of Leiden sept. 2017
But also companies like: Coca Cola (2019) Kraft Heinz (2019) ABN AMRO (2019) SUEZ (2019) VAUDE (2019 Austria) Crowne Plaza Hotels (2019)
NGO's like: Greenpeace, IVN Youth, TEDx Youth, Plastic Soup Foundation, Springtij
Media: National Geographic Channel, RTL Late Night, Pauw NPO, Trouw, Vrij Nederland.
Find the full overview in the Year-report of the Foundation here:
Presentation for Frans Timmermans Madrid 2019